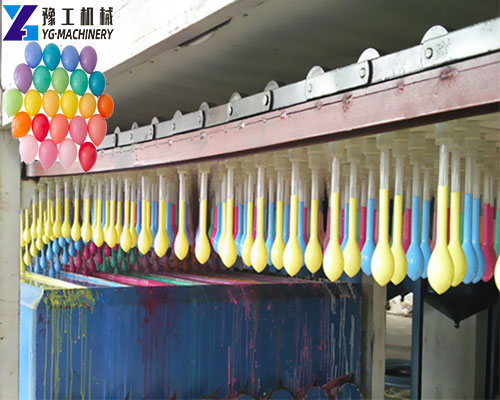 YG Latex Balloon Making Machine
The latex balloon making machine is used to make various types of balloons. At present, the demand for balloons is increasing. Invest in a balloon-making machine to make money for you! Want to know more? Contact us now!
Balloon Making Machine Parameter:
Model
YG-QQ45
YG-QQ60
YG-QQ80
YG-QQ100
Dimension(L*W*H*)(m)
45*1.26*4.45
45*1.70*4.45
45*2.23*4.45
60*1.26*4.45 60*1.70*4.45 60*2.23*4.45
80*1.26*4.45 80*1.70*4.45 80*2.23*4.45
100*1.26*4.45 100*1.7*4.45 100*2.23*4.45
Layer
2
2
2
2
Color/time
4/6/8
4/6/8
4/6/8
4/6/8
Mold/row
16/24/32
16/24/32
16/24/32
16/24/32
Mold(pcs)
10912/16368/21824
14944/22416/29888
20272/30408/40544
25600/38400/51200
Capacity(pcs/hr)
10560/15840/21120
14400/21600/28800
19200/28800/38400
24000/36000/48000
Heat(Kcal/hr)
250000
400000
500000
625000
Power(kW/hr)
23kw
29kw
32kw
40kw
Weight(ton)
35
42
45
56
Heating Source
Steam、Thermos oil、Natural Gas、Electricity etc.
Voltage(V)
380/220V   50-60HZ
Working Video:
4 Features of YG Latex Ballon Production Line:
The natural latex toy balloon production line adopts a continuous production method or direct immersion method, with uniform film formation and bright color, and can produce various specifications and multi-color balloons at the same time. Equipped with an automatic molding machine, the output is high, and the product has no sag.
The production line is designed according to the natural latex curing and molding process. The process is reasonable, and the glue replenishing system is automatically balanced so that the product is stable, the thickness of the dipping glue is uniform, there is no sag, the temperature is balanced, the output is high, and the mold release is easy.
The oven adopts the principle of hot air circulation to make the internal temperature of the oven uniform and uses chemical fiber asbestos insulation material to effectively ensure that the temperature does not lose, thereby improving the use of the thermal efficiency of the machine. Accuracy of temperature control, thereby improving the qualification rate of products.
Specially designed elastic piston mold connection device, easy to replace the mold, no mold drop phenomenon.
Different Types of Balloons:
In most countries and cities, people like to use balloons as festive items to decorate places during festivals to achieve the effect of rendering the atmosphere.
Mainly divided into the following categories: inflatable arches, hydrogen balloons, latex balloons, music balls, lift-off balls, water balls, pearl balls, ornamental balloons, magic balloons, fluorescent balls, hot air balloons, balloon electronic lanterns, sleeves Balls, balls in balls, long strips, detonating balloons, threaded balls, glowing balloons, helium balloons, inflatable cartoons, cartoon balloons, balloon printing, balloon weaving, toy balloons, smiley balloons, transparent balloons, advertising balloons.
Balloon Making Machine Photos: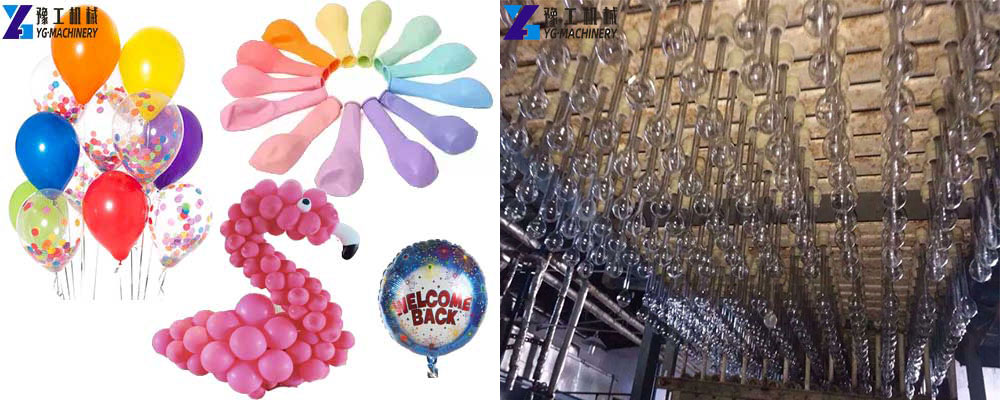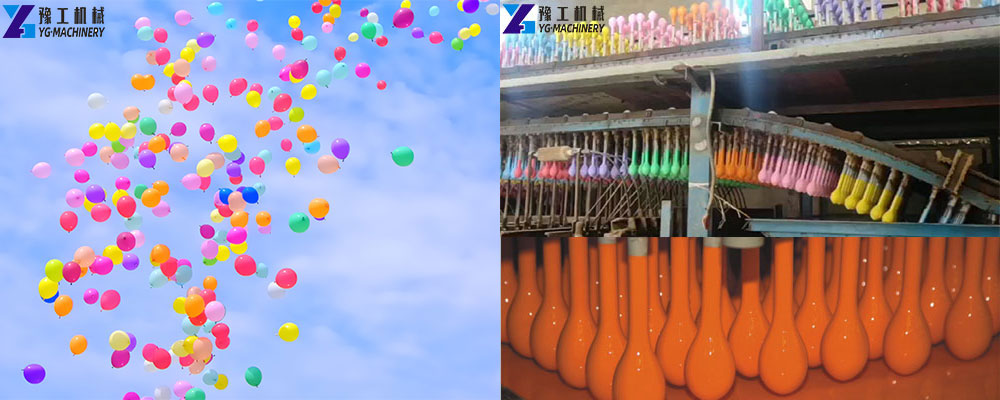 More Knowledge of Balloon:
Material:
Rubber, aluminum latex, plastic, Oxford cloth, PVC, aluminum foil, PA, PE, hot air balloon
What material is the balloon made of, does it pollute the environment?
High-quality balloons are made of environmentally friendly rubber. When the balloon is inflated and exposed to air, degradation begins. This can be confirmed by the phenomenon of oxidation on the surface of the balloon: soon after the balloon was inflated, a layer of fog formed on the surface. Heat and sunlight can speed up this process. High-quality balloons will eventually decompose into the soil like leaves in a few weeks, and will not cause environmental pollution.
Other Hot-sale Machinery:
As a leading manufacturer of latex products, YG Machinery also has glove-making machines, latex glove making machines, surgical glove making machines, Nitrile glove making machines, condom-making machines, shoe cover machines, finger cots making machines, latex mattress machines, and other equipment. Contact us for a new investment plan. 【Whatsapp/Wechat/Phone/Skype】+86 136 1385 6800